With its 560-year history, it is one of the most popular historical buildings of Istanbul. Grand BazaarAfter the completion of the roof restoration work, as of today, it will be opened to local and foreign tourists.
Tourists who come to the roof, which will be opened to visitors within the framework of certain rules, will enjoy the unique view.
Speaking about the opening of the historical roof, Fatih Kurtulmuş, Chairman of the Board of Directors of the Grand Bazaar, said, "As of July 1, the roof of our Grand Bazaar will be opened to tourists for domestic and foreign tourism. This is done through tourism agencies. Our roof restoration was already completed in our Grand Bazaar. And those unpleasant images of the Grand Bazaar disappeared," he said.
Adding that all visitors can now visit and take pictures on the roof of the Grand Bazaar so that two people can walk safely and insured, Kurtulmuş added: "They will be able to visit it. Because this is a 560-year-old place. It is a museum like no other in the world. "It is not a shopping center but a center of life for culture, art, tourism and history. Therefore, we also offer this to our benefit and we want to share it."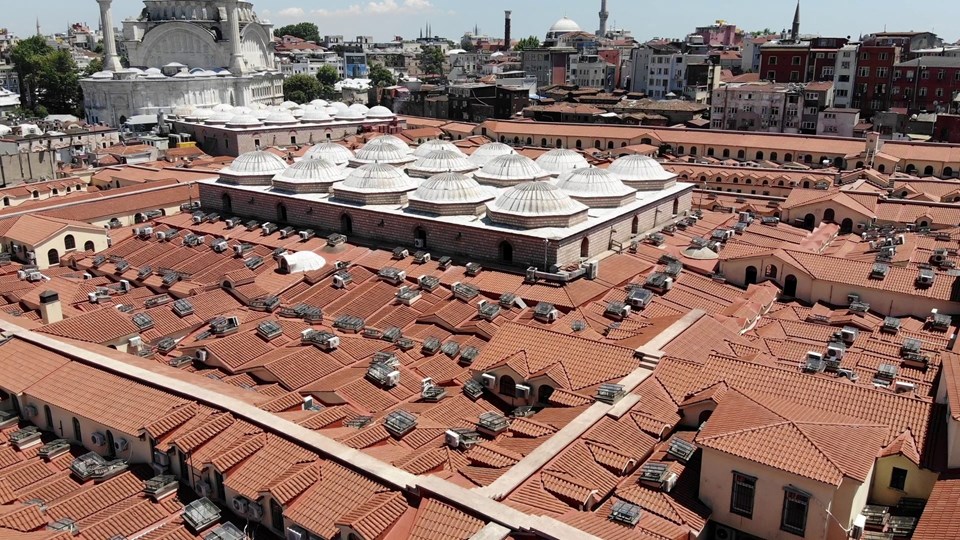 Noting that the restoration works were carried out meticulously, Kurtulmuş continued his words as follows:
"There was a lot of serious work done here. There was a movie of James Bond on the roof of the Grand Bazaar. Right on this road, here in April 2012, James Bond passed here on his motorcycle. It was overturned and the tiles were damaged. It was a very unpleasant situation and after that. With the help of the Governor's Board of Monuments and the Turkish Cultural and Natural History Heritage Preservation Board, Fatih Municipality and we, in cooperation with the Grand Bazaar Executive Board, completely restored this roof. It started in 2016 and finished in 2018. 800 thousand tiles were used. One hundred people worked for 630 days. "The roof of the Grand Bazaar has been completed with 8 layers of insulation. The roof of the Grand Bazaar has been completed as a restoration. We have two missions. To leave our 560-year-old Grand Bazaar healthy for future generations and to serve as an embassy in the world tourism promotion of this place."
Stating that they are waiting for domestic and foreign tourists, Kurtulmuş said, "Our tourists will be able to come and walk on the roads safely here. Here they will take pictures. Tourism agencies were already working here. There was a one-year break during the pandemic period. We have already opened this place to tourism step by step after this restoration. But as of July 1, we are making a new opening again and we are waiting for everyone here. After we open this place, our tourists can come whenever they want. We can show them around if they talk to us. These opportunities will also be provided through the guides. This is something we've already done before. Hopefully, we invite everyone to visit, see and visit the roof of the Grand Bazaar on behalf of our board of directors."