Jolly, one of Turkey's most important leading tourism companies, announced that it aims to raise awareness in the field of sustainable tourism by collaborating with the United Nations Development Program (UNDP) Turkey. Jolly, who started the "My Heritage Turkey" campaign in the past years to leave Turkey's rich heritage to future generations, announced that it will continue its work on sustainable tourism with this new collaboration it announced.
"OUR COUNTRY'S FUTURE WILL WORK TO TEACH OUR CHILDREN IN EVERY ASPECT OF THIS HERITAGE WE HAVE"
Jolly Chairman of the Board of Directors Mete Vardar said, "Until now, we have worked to promote Turkey's rich heritage. But we know that we have a lot of responsibility to transfer and protect our natural and cultural values ​​to future generations. For this reason, we started a long-term journey aimed at raising awareness in the field of sustainable tourism in partnership with UNDP," he announced this new cooperation.
UNDP Turkey aims to develop sustainable tourism in Turkey through the projects it supports, to minimize the negative effects of tourism on society and the environment, to increase tourism's contribution to the local economy, to the preservation of natural and cultural heritage, and to the improvement of the quality of life of hosts and visitors.
UNDP Turkey Deputy Representative for Programs Seher Alacacı Arıner made a statement regarding the project: "As UNDP Turkey, we see tourism as a key actor to achieve the Sustainable Development Goals, and we care about and support innovative approaches and strong partnerships for the adoption of a sustainable tourism approach. In line with this purpose, I believe that we will contribute to the protection of environmental and cultural values ​​and local economic development in Turkey with the new cooperation we have established under the umbrella of Mirasım Turkey."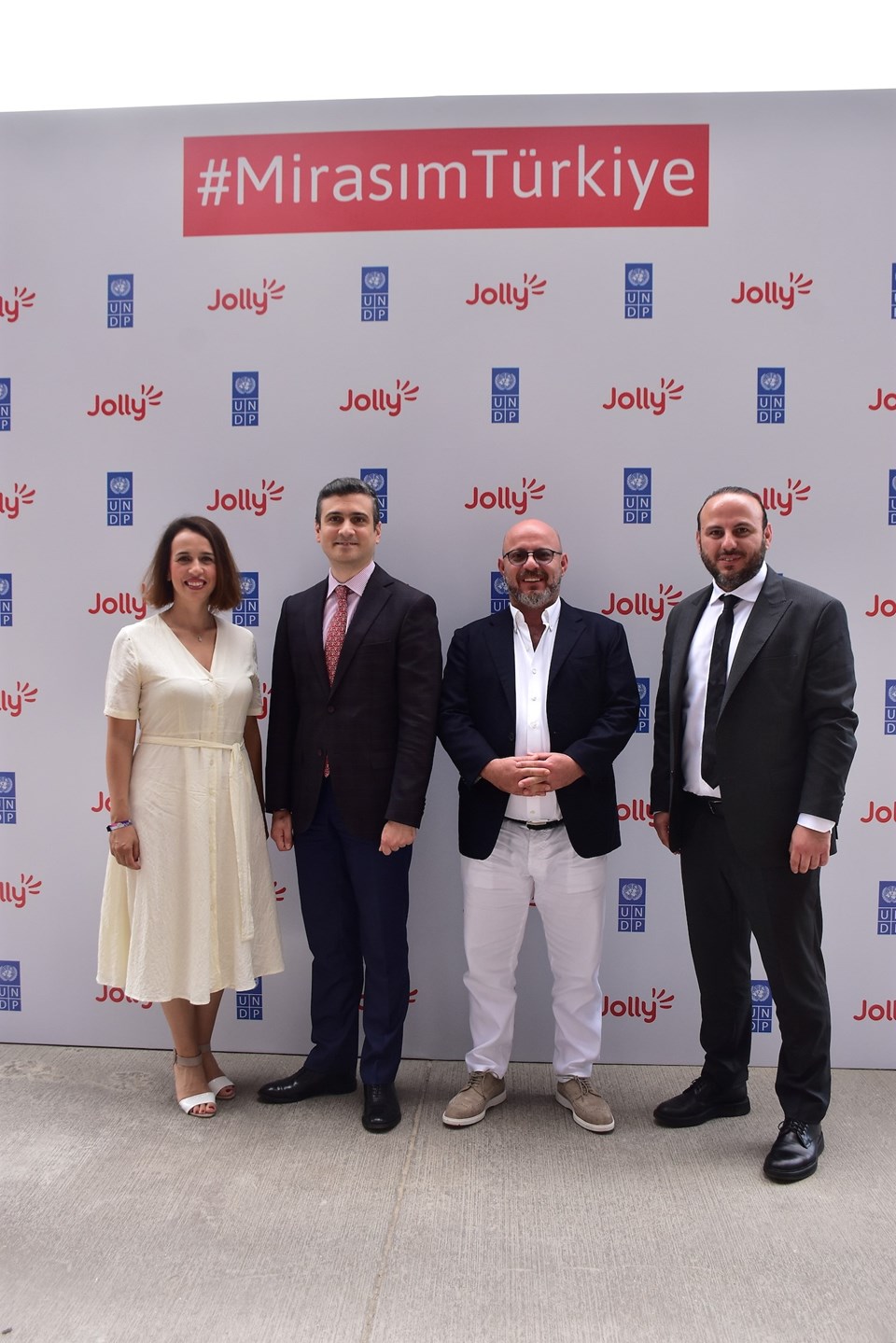 Jolly and UNDP Turkey aim to raise awareness among local people, children and their families in the field of sustainable tourism within the framework of the Heritage Turkey campaign. Within the scope of these activities to be carried out jointly, the project partners aim to protect natural and cultural values ​​and transfer them to future generations, thus contributing to the Sustainable Development Goals.
Mert Vardar, Vice Chairman and CEO of Jolly Board of Directors, stated the objectives of the project as "We, as Jolly, have made it our duty to promote the natural, historical and cultural values ​​of our country and to increase regional employment with the awareness of this responsibility. We have been making serious investments in this field for the last 3 years. Now we are even more excited. We are starting a cooperation with UNDP Turkey to raise awareness about sustainable tourism and to raise awareness of responsible tourists. We will organize trainings and workshops that we have started online now, where we will reach our children face to face with the disappearance of the pandemic conditions. Our goal is to raise the awareness of being responsible tourists to 250,000 children."
Mustafa Ali Yurdupak, UNDP Turkey Inclusive and Sustainable Growth Portfolio Manager, spoke as follows within the scope of the cooperation with Jolly; "We are very happy to cooperate with Jolly, one of the leading travel agencies in the tourism industry for more than 30 years. We embarked on a long-term journey with Jolly to raise awareness in the field of sustainable tourism. I believe that we can create a wide-ranging awareness in our country with the various activities we will carry out to protect our common heritage and transfer it to future generations, to adopt sustainable tourism principles and to reach the Global Goals by acting with an environmentally sensitive tourism understanding"
Mirasım Turkey also screened the commercial in which Turkey invites everyone to be responsible tourists and to leave a better tomorrow for future generations. Jolly Marketing Director Yasemin Develioğlu said, "We will educate our children on the rich history, cultural and biological richness of our country. We believe that in order to raise responsible tourists, it is necessary to start from a young age. We cannot love what we do not know, and protect what we do not love. That's why we will first teach and make our children love this rich heritage so that they can protect it in the future".
UNDP Turkey Communications Department Head Dr. Faik Uyanık said: "As UNDP, we are very happy with this innovative partnership that we have added to our long-standing work in the field of sustainable tourism in Turkey. A significant part of our activities in the Heritage Turkey project will focus on communication and advocacy. Our most important goal is to provide attitude and behavior change that will eliminate the negative effects of individuals on local communities and the planet through tourism."
Download the NTV application, be informed about the developments