Bodrum Mayor Ahmet Aras, in his speech at the press conference held with the video conference method, said that the interest in Bodrum increased before and after the epidemic, population growth and acceleration of investmentsHe stated that they observed.
Expressing that they will remove the infrastructure problems of Bodrum from their agenda within a year, Aras said that they do not want the district to be mentioned with these problems anymore.
Stating that Bodrum is one of the places with the highest brand value, Aras continued his words as follows:
"In Bodrum, infrastructure problems are at the forefront. Especially problems related to sewage, environmental problems, traffic, drinking water continue. Of course, these are the problems caused by rapid growth, the necessary investments are being made. Our hospital construction about health infrastructure continues at full speed, private schools are coming, tourism investments, hotels, residences, marinas, gyms continue.
On the other hand, there is a very serious interest in Bodrum from abroad. The number of tourists who have come to Bodrum so far is around 1 million 100 thousand in the best period. A destination in Europe with the same bed capacity as Bodrum can host 2.5 million tourists.
What we lack is that the season is short, if we provide 12-month tourism, we can reach our target of 2.5 million tourists and 5 billion dollars in revenue. We are working for this. "
Stating that as a CHP municipality, they do not focus politics, they work entirely on service and reconciliation, Aras stated that they are working for the future of Bodrum in harmony with the organizations of other parties in Bodrum.
Emphasizing that the investments should not harm the nature, the environment and the culture of the district, Aras noted that they are currently managing the change in Bodrum.
"AN UNSEEN INVESTMENT AMOUNT"
Ahmet Aras noted that despite the epidemic, the investment amount that is currently ongoing in the district and started to be built is 10 billion dollars. Drawing attention to the fact that this is an investment amount unprecedented in the history of Bodrum, Aras said, "This includes all investments from infrastructure to tourism, hotels to hospitals, sports halls to schools. Very important brands in tourism come to Bodrum. We are forced against the intense demand in the municipality, we approach investments with a protective understanding ".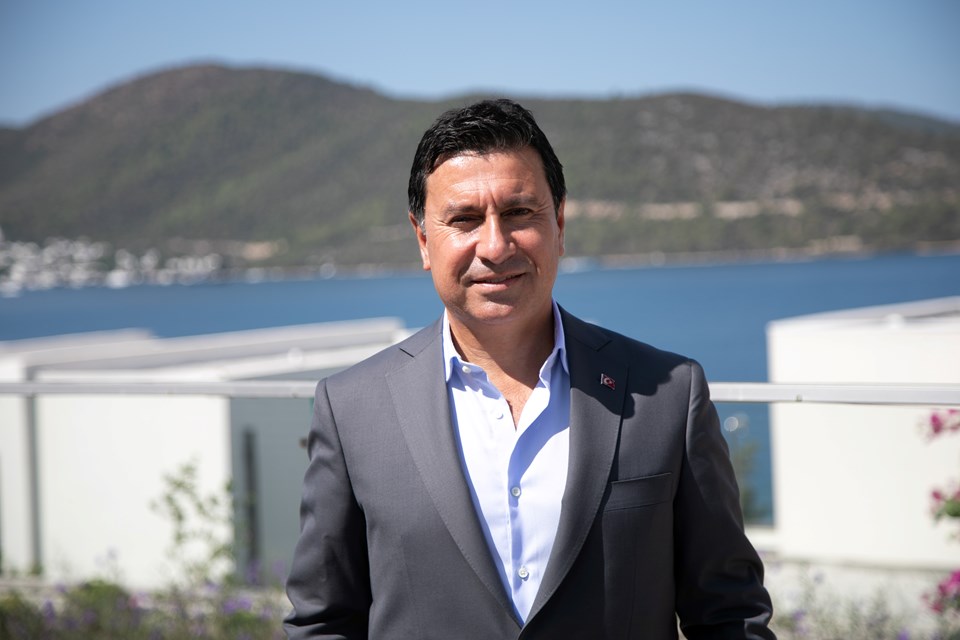 Bodrum Mayor Ahmet Aras
Stating that Bodrum lost around 74 percent of their tourism revenues in 2020, Aras stated that this was a painful result of the epidemic and caused serious fluctuations in the tourism and service sector.
Aras stated that he believes that the measures to be taken by the government against the epidemic will improve in March and April, and that tourism will start in May and June.
"Bodrum is Turkey's DAVOS DETERMINED TO DO"
Ahmet Aras, Bodrum, Turkey stressed that they are committed to Davos, the words continued as follows:
"What do you mean Turkey's Davos? Bodrum will be the place where international economic forums, tourism forums, big sports organizations and congresses are held. With this potential, Bodrum will be able to provide a very serious foreign currency return to the country's economy.
We need congresses, fair centers and diversifying tourism. We will attach special importance to nature and cultural tourism. There is a serious investment demand especially from Russia and Ukraine for the construction of the most important organizations in the world. "
"WE WILL PROVIDE 10 MUSEUMS IN BODRUM IN 3 YEARS"
Aras stated that they will bring 10 museums to Bodrum in 3 years and expressed that they want Bodrum to be remembered with culture, art and literature.
Upon a journalist's question regarding investments, Aras stated that there are two new projects, "One of them will be the fair and congress center to be built on a 17 thousand square meter land in Konacık region, this will be a private initiative. For the same purpose, Russian investment is coming and it will be in Ortakent region. A center will be built for sports, congresses, concerts and cultural activities. On the one hand, new football fields and new halls related to sports are being built ".
"OUR POPULATION INCREASED BY 5 THOUSAND PEOPLE"
Ahmet Aras pointed out that with the epidemic, the second residences started to be used not only for 3 months in summer, but also in summer and winter.
"6 months ago 'If you live in Bodrum, take your population to Bodrum' campaign we started. Because our official population of 176 thousand is only between 400 and 450 thousand. There was no return in winter this year, due to the epidemic. Taking the population registration here will increase both our income and the staff in our district, and will increase tax revenues. After our calls, our population increased by 5 thousand and reached 181 thousand 500, "he said.
ARCHIVE: KILOMETERS OF VEHICLE TAIL IN BORDUM